Panel discussion: Long COVID implications and rehabilitation of patients
Date:
October 24, 2020 (Sat)
Time:
04:30 PM – 05:30 PM
What the session is about
Discussion (4.30 to 5.00 pm)
Post COVID-19 health vigilance
Respiratory rehabilitation for COVID-19 patients
Management of post-covid fatigue
Cardio metabolic and endocrine follow-up in COVID-19 survivors
Neuro-psychological support during and after COVID-19 Infection
Interactive Q&A (5.00 to 5.15 pm)
Register now and send your questions through the chat window
You can also send questions 'Live' during the Webinar through the chat window below the video
About the presenter:
Dr. Sanjay Kalra, Consultant Endocrinologist, Bharat and President, Endocrine Society of India
Dr. Sanjay Kalra
Consultant, Bharati Hospital, Karnal, India,
Visiting Professor, AIIMS Rishikesh, India,
President, Endocrine Society of India,
Vice President, South Asian Federation of Endocrine Societies,
Education Editor, International Society of Endocrinology.
---
Panelists
Dr. Viny Kantroo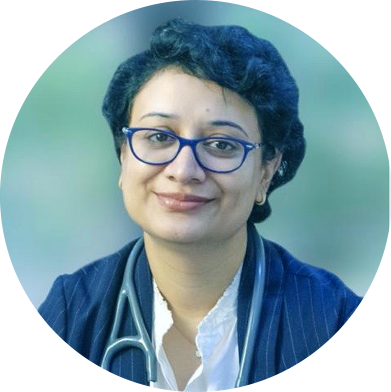 Life Member, Indian Chest Society, European Respiratory Society, Indian Society of Critical Care Medicine, European Society of Critical Care Medicine,
Faculty for DNB Pulmonology and Critical Care (Apollo, New Delhi),
Papers in National & International Journals,

Principal Investigator (2), CoInvestigator (1) in various multicentre research trials on COVID-19.
Dr. Hitesh Punyani
Director Chaitanya Cardio diabetes Centre
19+ years experience overall Internal Medicine

Professional Membership of RSSDI, API, DIPSIHe has several Publications to his credit
Dr. Komal Verma
Professor, Amity Institute of Behavioural and Allied Sciences, Amity University Haryana,
Awarded Research Excellence Award (Health Care) 2020 by Global Research Foundation, New Delhi,

Awarded International Project on "Improving coping strategies in youth with diabetes," at 4th International DAWN summit, International Diabetes Federation & Novo Nordisk,

Published 25+ research papers (National and International Journals, Scopus indexed),

Edited Book on Facets of Healthy Mind and Body.