Nonsteroidal solution may be key to aldosterone-blocking therapy for diabetic kidney disease
ADA 79th Scientific Sessions Meeting News Jun 13, 2019
After 20 years of failure in studies on diabetic kidney disease (DKD), recent trial results showing reduced renal outcomes with SGLT2 inhibitors were only the beginning of the good news for DKD patients.
During 9th June's ADA/American Society of Nephrology Symposium, Peter Rossing, MD, DMSc, Professor and Head of Diabetes Complications Research at the Steno Diabetes Center at the University of Copenhagen, Denmark, discussed ongoing efforts to build on the results of the Evaluation of the Effects of Canagliflozin on Renal and Cardiovascular Outcomes in Participants With Diabetic Nephropathy (CREDENCE) trial.
"(SGLT2) is not a therapy for everybody, so we still need to find other options," said Dr. Rossing, who reviewed the novel mineralocorticoid receptor (MR) antagonist finerenone, which is now in phase 3 trials.
Short-term clinical studies have shown renoprotective effects of aldosterone blockade in DKD patients. However, while aldosterone blockade is generally well tolerated, potassium is a concern in DKD.
As a nonsteroidal MR antagonist that targets MR overactivation, a major driver in DKD, finerenone appears to be a solution, Dr. Rossing said.
"It blocks aldosterone, reduces albuminuria, but does not very much increase potassium in the data we have so far," he said. "It seems to be well tolerated in both the heart failure and kidney disease populations. But we only have surrogate markers and, of course, we need to wait for the long-term outcome trials to really determine the place of this compound."
There are two ongoing randomized, double-blind, placebo-controlled, parallel-group, multicenter, event-driven phase 3 studies of finerenone in type 2 diabetes patients with DKD: Efficacy and Safety of Finerenone in Subjects With Type 2 Diabetes Mellitus and the Clinical Diagnosis of Diabetic Kidney Disease (FIGARO); and Efficacy and Safety of Finerenone in Subjects With Type 2 Diabetes Mellitus and Diabetic Kidney Disease (FIDELIO).
FIGARO is investigating the safety and efficacy of finerenone for the reduction of cardiovascular morbidity and mortality in 7,437 subjects with type 2 diabetes and a clinical diagnosis of DKD.
FIDELIO is investigating the safety and efficacy of finerenone on the progression of kidney disease in 5,734 subjects with type 2 diabetes and a clinical diagnosis of DKD.
In both studies, participants were randomized to 10 mg daily doses of finerenone or placebo. If no severe increase in potassium is observed in individual participants, the 10 mg doses are increased to 20 mg doses daily, Dr. Rossing explained.
"These are by far the largest studies of diabetic kidney disease so far," Dr. Rossing said. "We expect to have data from FIDELIO next year, and in 2021 to have data from FIGARO."
This article is a news release from ADA 79th Scientific Sessions Meeting. Read the original here.
Sign-up to continue reading. It is free & takes less than 2 mins
45 lakhs+ doctors trust M3 globally

Free & unlimited access to original articles and quizzes

Secure: we never sell your data
Topic: General medicine, Family medicine
Which is the better predictor of incident hypertension?
Weekly competition with peers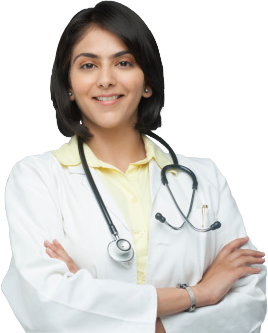 Why join our Market Research Panel?
10K+ Doctors participated

in 40+ Indian and Global studies in 2018
Average honorarium per study was

Rs. 1,600

and total honoraria as high as

Rs. 12,000

was earned by a Doctor
This article is only available to members. Are you a doctor? Click here to signup for free.