Why physicians should be the primary caregivers for OA - Dr. Rohini Handa
M3 India Newsdesk Mar 07, 2019
Dr. Handa stresses on multimorbidities and prescription cascade in the elderly as well as surgery utilisation rates in knee OA to drive home the point why physicians should be the primary caregivers for OA.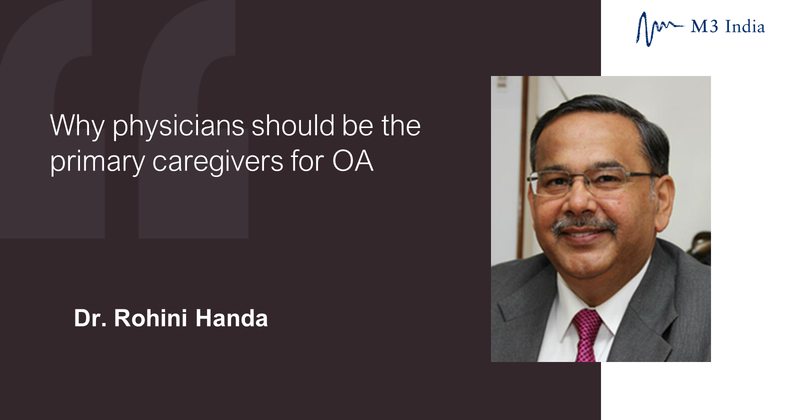 Osteoarthritis (OA) is the commonest joint disease encountered in clinical practice. OA, low back pain, soft tissue rheumatism and inflammatory rheumatic diseases comprise the 'Big 4' of Rheumatology- four musculoskeletal conditions most frequently seen in the community.
Of note, all the inflammatory rheumatic diseases like rheumatoid arthritis, lupus, vasculitis etc. put together come nowhere near OA in terms of commonality. A doctor may or may not encounter rare diseases like Granulomatosis with Polyangiitis (Wegener's) but there is no doctor who can escape the problem of OA, whether as a primary problem or as a part of multi-morbidities in an elderly patient.
It also merits emphasis that only a tiny minority of patients with OA require surgical intervention. Despite this, OA has traditionally been considered the domain of the orthopaedic surgeon. Most physicians refer all patients with joint pains to the orthopaedic surgeon without even a cursory look or perfunctory examination. OA is no exception. Public belief is no different. Physician unfamiliarity and traditional role models play an important role in influencing the perception of OA as an orthopedic problem.
---
Rheumatology is a nascent specialty in India with few training opportunities. It is marginalised in the undergraduate and postgraduate medical curricula. Undergraduate teach­ing of joint and musculoskeletal diseases is undertaken by orthopaedic surgeons in most medical colleges who have no trained rheumatologists on their faculty. This write up makes a case for physicians to assume charge as the 'primary' caregivers for this 'mainly medical' problem. The idea is not to exclude orthopaedic surgeons but to encourage physicians to start tackling the ubiquitous problem that is OA.
---
The silver tsunami facing India has catapulted OA centre stage. The impact of OA, especially that of knees and hips, extends beyond joints. It would not be out of place to highlight the indirect contribution of OA to the 3 most important non communicable diseases (NCDs) in India.
According to the India State-Level Disease Burden Initiative launched in October 2015 (a collaboration between the Indian Council of Medical Research, the Public Health Foundation of India, Institute for Health Metrics and Evaluation, and other experts) the three leading causes of mortality in India are cardiovascular disease, respiratory disease, and diabetes.
This fine-grained picture sidelines one indisputable fact that OA is the commonest cause of locomotor disability in the elderly. Thus, OA indirectly, but in no small measure, contributes to the inability to exercise, suboptimal diabetes control, and poor cardiopulmonary reserve, especially in the elderly. Effective treatments for OA can improve mobility and exercise capacity thereby contributing to the control of killer NCDs.
Having dwelt on the commonality and importance of OA, let me emphasise three additional points to buttress my argument that physicians should be the primary caregivers for OA:
Multimorbidities in the elderly
Prescription cascade in the elderly
Surgery utilisation rates in knee OA
The elderly patient with OA often has several co-morbidities like hypertension, diabetes, COPD, coronary artery disease, benign prostate hypertrophy etc. which require multiple drugs. The nuances of drug prescription and potential interaction in these situations are beyond the purview of most non-physicians.
An important corollary is the prescription cascade in the elderly, a common example of which is shown in the figure below. A medicine prescribed for one condition may lead to another condition which evokes the prescription of another drug, giving rise to a vicious loop which few non-physicians have the training, experience or gumption to handle. Surgery, especially joint replacement, is required only in a small proportion of patients with OA.
The success in carefully selected patients is without doubt. However, in India, the surgery utilisation rates are low for a variety of reasons. The number of knee transplants carried out in India approximate 100,000 per year. Assuming that only 10% of the nearly 5 crore Indians with knee OA have severe OA necessitating surgery, we are looking at 50,00,000 knee transplants in India- a far cry from the actual utilisation rates. Apart from knee and hip, OA at other sites like the first carpometacarpal joint, nodular OA of hands, and OA of spine have limited indications for surgery.
---
All in all, OA is a medical problem and should be the physician's domain. Collaboration and consultation with orthopaedic surgeons, physiatrists, physiotherapists and occupation therapists is vital. However, the primary and pivotal care giver should be the physician in the multidimensional disease that is OA!
Disclaimer-The information and views set out in this article are those of the author(s) and do not necessarily reflect the official opinion of M3 India. Neither M3 India nor any person acting on their behalf may be held responsible for the use which may be made of the information contained therein.
Only Doctors with an M3 India account can read this article. Sign up for free or login with your existing account.
4 reasons why Doctors love M3 India
Exclusive Write-ups & Webinars by KOLs

Daily Quiz by specialty

Paid Market Research Surveys

Case discussions, News & Journals' summaries
Sign-up / Log In