ASH 2018: Myeloma trials- Takeaways and opinions by Dr. Vishwanath & Dr. Vinayak
M3 India Newsdesk Jan 10, 2019
Medical Oncologists, Dr. Vinayak Maka and Dr. Vishwanath Sathyanarayanan quickly summarise 5 studies from Myeloma presented at ASH 2018, adding their commentaries on each.


The 60th Annual meeting of the American Society of Hematology (ASH) was held between December 1 and 4, 2018 at San Diego, USA. ASH is attended by more than twenty thousand haematologists globally. Groundbreaking research in haematology are presented and several of them are practice changing.
Here, we have critically analysed the oral and poster presentations made in Myeloma and presented only the ones which may be important for practising oncologists in India.
---
Forte trial
Carfilzomib-Lenalidomide-Dexamethasone (KRd) Induction-Autologous Transplant (ASCT)-Krd Consolidation Vs Krd 12 Cycles Vs Carfilzomib-Cyclophosphamide-Dexamethasone (KCd) Induction-ASCT-Kcd Consolidation: Analysis of the Randomized Forte Trial in Newly Diagnosed Multiple Myeloma (NDMM)
Dr. Vishwanath: In patients with newly diagnosed multiple myeloma, KRd induction with/without ASCT, shows significant responses including close to 90% ≥ VGPR and 44% sCR. In this study the responses were definitely better than KCd. We will have to wait for the long term results to see if ASCT makes a difference in the KRd cohort. With the availability of economical biosimilars of carfilzomib in India, KRd is definitely a regimen which clinicians may consider.
Dr. Vinayak: Use of effective newer drugs in first line to achieve deeper response with increased MRD negativity and prepare patient for early ASCT is possible now with biosimilar carfilzomib.
The current study compared safety and efficacy of KRd induction–ASCT–KRd consolidation vs 12 cycles of KRd vs KCd induction–ASCT–KCd consolidation.
In patients with ND MM, both KRd–ASCT–KRd and 12 cycles of KRd significantly improved rates of premaintenance ≥ VGPR, sCR, and MRD negativity vs KCd–ASCT–KCd.
Premaintenance rates of ≥ VGPR, sCR, and MRD negativity were similar between KRd–ASCT–KRd and 12 cycles of KRd
Results were similar across most subgroups evaluated
Safety outcomes broadly similar between arms, with more dose reductions, and treatment-related grade 3/4 hypertension, dermatologic, and hepatic AEs and serious AEs with use of KRd
---
Griffin trial
Efficacy and Updated Safety Analysis of a Safety Run-in Cohort from Griffin, a Phase 2 Randomized Study of Daratumumab (Dara), Bortezomib (V), Lenalidomide (R), and Dexamethasone (D; Dara‐Vrd) Vs. Vrd in Patients (Pts) with Newly Diagnosed (ND) Multiple Myeloma (MM) Eligible for High‐Dose Therapy (HDT) and Autologous Stem Cell Transplantation (ASCT)
Dr. Vishwanath: In transplant-eligible adults with newly diagnosed multiple myeloma, combined daratumumab + VRd was well tolerated with ORR 100% and ≥ CR 94% in the maintenance phase. It's still early days for this regimen and we will have to wait for the phase III trial results. Moreover, the cost of daratumumab is currently very high in India.
Dr. Vinayak: Daratumumab is a first-in-class biologic targeting CD38, a surface protein that is highly expressed across multiple myeloma cells, regardless of disease stage. It is currently approved in patients with myeloma who are ASCT ineligible. daratumumab induction does not negatively impact stem cell mobilisation as all patients underwent successful mobilisation with subsequent ASCT.
Data presented on the Phase 2 GRIFFIN study investigated daratumumab in combination with bortezomib, lenalidomide and dexamethasone (VRd) in a 16-patient safety cohort of newly diagnosed patients with multiple myeloma who were eligible for high-dose therapy and ASCT.
Results showed that by the end of consolidation therapy following ASCT,
All patients enrolled in the safety run-in obtained VGPR or better
63% achieved complete response (CR) or better, including 25% of patients who achieved sCR
Additionally, 94% of patients remained progression-free on study treatment at a median follow-up of 16.8 months
In addition, 8 of the 16 patients (50%) were MRD negative at a level of 10-5 by the end of consolidation
14 patients (88%) experienced Grade 3/4 TEAEs with 10 (63%) related to treatment with daratumumab
The most common Grade 3/4 TEAEs (≥10%) included neutropenia, pneumonia, thrombocytopaenia, lymphopenia, febrile neutropenia, leukopenia, rash and hypophosphataemia. Thirteen patients (81%) experienced infections of any grade, including upper respiratory tract infection (six patients), pneumonia (four patients), bronchitis (two patients), and otitis and viral gastroenteritis (two patients each). No deaths due to serious adverse events were reported and no patient discontinued treatment due to an adverse event.
---
MAIA Phase III trial
LBA-2 Phase 3 Randomized Study of Daratumumab Plus Lenalidomide and Dexamethasone (D-Rd) Versus Lenalidomide and Dexamethasone (Rd) in Patients with Newly Diagnosed Multiple Myeloma (NDMM) Ineligible for Transplant (MAIA)
Dr. Vishwanath: Addition of daratumumab to Rd reduced risk of progression or death by 44% in patients with ASCT-ineligible newly diagnosed MM. It improved the rates of stringent CR/CR and MRD negativity rates. In the Indian context, it may be difficult to replace the combination of VRd/ KRd unless the cost of Daratumumab reduces.
Dr. Vinayak: In older patients who are not candidates for stem cell transplantation, these are very encouraging results. Cost and need for hospital admission for drug infusion will be a major limiting factor for its use despite being available in India.
The Phase III study (NCT02252172) is a randomised, open-label, multicenter study that includes 737 newly diagnosed patients with multiple myeloma who are not candidates for high dose chemotherapy and ASCT. Patients were randomised to receive either daratumumab in combination with lenalidomide and dexamethasone or lenalidomide and dexamethasone alone.
In the daratumumab treatment arm, patients received 16 milligrams per kilogram (mg/kg) weekly for first 8 weeks (cycles 1 and 2), every other week for 16 weeks (cycles 3 to 6) and then every 4 weeks (cycle 7 and beyond) until progression of disease or unacceptable toxicity. Lenalidomide was administered at 25 mg orally on days 1 through 21 of each 28-day cycle, and dexamethasone was administered at 40 mg once a week for both treatment arms. Participants in both treatment arms continued Rd until disease progression or unacceptable toxicity. The primary endpoint of the study was PFS.
The study met the primary endpoint of improving progression-free survival (PFS) at a pre-planned interim analysis (Hazard Ratio (HR) = 0.55 (95% CI 0.43 – 0.72), p < 0.0001) resulting in a 45% reduction in the risk of progression or death in patients treated with DRd
The median PFS for patients treated with daratumumab in combination with Rd had not been reached, compared to an estimated median PFS of 31.9 months for patients who received Rd alone
---
RV-MM-PI-0752 trial
Efficacy and Feasibility of Dose/Schedule-Adjusted Rd-R Vs. Continuous Rd in Elderly and Intermediate-Fit Newly Diagnosed Multiple Myeloma (NDMM) Patients: RV-MM-PI-0752 Phase III Randomized Study
Dr. Vishwanath: In intermediate-fit patients with newly diagnosed MM, dose/schedule-adjusted Rd induction followed by R maintenance extended EFS vs continuous Rd, median EFS, Rd-R vs Rd: 9.3 vs 6.6 mos, respectively (P = .044). This is a very relevant study from the Indian perspective. The two-drug regimen for induction followed by lenalidomide maintenance is an excellent regimen for elderly patients who are Intermediate-fit.
Dr. Vinayak: A dose/schedule-adjusted Rd-R treatment was more feasible compared to full dose continuous Rd treatment in elderly intermediate-fit NDMM patients, with no negative impact but rather a comparable outcome. There is need for an appropriate definition of patient frailty in Indian population before we plan frailty-adjusted treatment approach.
Intermediate-fit NDMM patients, with a total frailty score (age, Charlson Index, ADL and IADL) of 1 were enrolled and randomised to receive Rd-R or continuous Rd. To better approximate a real-world older population, patients usually excluded from clinical trials or with abnormal laboratory values could be included in the trial.
Rd-R treatment consisted of nine 28-day cycles of lenalidomide 25 mg/day for 21 days and dexamethasone 20 mg on days 1,8,15,22, followed by lenalidomide maintenance 10 mg/day for 21 days, until disease progression. Continuous Rd consisted of lenalidomide 25 mg/day for 21 days and dexamethasone 20 mg on days 1,8,15,22, until disease progression.
The primary endpoint was event-free survival (EFS). No difference in progression-free survival (PFS) and overall survival (OS) was observed.
---
Tourmaline-MM3 trial
Maintenance Therapy with the Oral Proteasome Inhibitor (PI) Ixazomib Significantly Prolongs Progression-Free Survival (PFS) Following Autologous Stem Cell Transplantation (ASCT) in Patients with Newly Diagnosed Multiple Myeloma (NDMM): Phase 3 Tourmaline-MM3 Trial
Dr. Vishwanath: Ixazomib, an oral proteasome inhibitor has manageable toxicity profile and once-weekly dosing, may be well suited for post-ASCT maintenance therapy. PFS prolongation by 39% with 2 years of maintenance was observed. The incidence of second primary malignancies was also less. However, the drug is currently not available in India. It may be worth importing this drug for affordable patients who are not tolerating lenalidomide.
Dr. Vinayak: Recruitment to clinical trials will enable Indian patients to have access to newer drugs otherwise these drugs will be out of reach for our population. We should wait for overall survival data of this study to see how it changes our current practice of oral lenalidomide maintenance.
The phase 3, double-blind, placebo-controlled, multicenter TOURMALINE-MM3 study (NCT02181413) compared weekly Ixazomib vs placebo maintenance in NDMM patients who had at least a partial response (≥PR) to induction therapy with a PI and/or immunomodulatory drug (IMiD) followed by single ASCT.
Patients were randomized (3:2) to receive Ixazomib or matched placebo on days 1, 8, and 15 of 28-day cycles for up to 2 years or until progressive disease (PD) or unacceptable toxicity. Randomisation was stratified by induction regimen (PI without IMiD vs IMiD without PI vs PI+IMiD), pre-induction ISS stage (I vs II or III), and post-ASCT response (complete response [CR] or very good partial response [VGPR] vs PR). Patients were ineligible if they had received post-ASCT consolidation or tandem ASCT. The primary endpoint was PFS.
This study demonstrated a 28% reduction in the risk of progression/death, corresponding to a 39% improvement in PFS with Ixazomib maintenance, with deepening of responses and increased conversions to MRD negativity over control, as well as a favourable safety profile.
Disclaimer- The views and opinions expressed in this article are those of the author's and do not necessarily reflect the official policy or position of M3 India.
Dr. Vishwanath Sathyanarayan is a Medical Oncologist from Apollo Hospitals, Bangalore with a fellowship from MD Anderson Cancer Center.
Dr. Vinayak Maka is a Senior Medical Oncologist who teaches and practice at the MS Ramaiah Medical College and the HCG MSR Cancer Centre, Bangalore.
Sign-up to continue reading. It is free & takes less than 2 mins
45 lakhs+ doctors trust M3 globally

Free & unlimited access to original articles and quizzes

Secure: we never sell your data
Topic: General medicine, Family medicine
Adding probiotics to sequential H. pylori eradication therapy does NOT have an impact on which measure?
Weekly competition with peers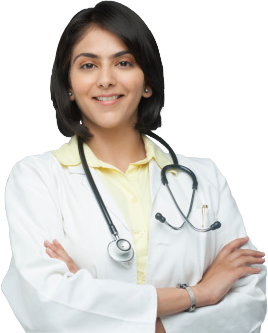 Why join our Market Research Panel?
10K+ Doctors participated

in 40+ Indian and Global studies in 2018
Average honorarium per study was

Rs. 1,600

and total honoraria as high as

Rs. 12,000

was earned by a Doctor
This article is only available to members. Are you a doctor? Click here to signup for free.