Key highlights from Mumbai Obstetrics and Gynecological Society conference: Dr. Reena Wani
M3 India Newsdesk Jan 09, 2019
Dr. Reena Wani brings to you highlights of the 47th annual conference of the Mumbai Obstetrics and Gynecological Society (MOGS) which was held on January 5th & 6th at Mumbai. Attended by over 800 delegates, the conference had many national and local speakers.
The conference included presentations of free papers and interesting cases made by junior delegates, interesting CMEs, panel discussions, and orations. MOGS 2019 gave OBGYNs an opportunity to share work done on theme topics of Critical Care, Pelvic Mass, Reproductive Endocrinology and miscellaneous topics related to women's health.
---
Sessions on standard operating procedures (SOPs) in labour room
What should the obstetrician do in clinical situations that could be a struggle between life and death for baby, mother, or both?
For shoulder dystocia, having drills in place and keeping calm, using deep episiotomy and simple manoeuvres is helpful, the key being to anticipate and keep calm
Amniotic fluid embolism, a rare but catastrophic event can have high mortality rates even with modern care. A multidisciplinary approach and ICU care are needed
PPH (blood loss of more than 500 ml postpartum) is still a leading cause of maternal deaths, and AMTSL (active management of the third stage of labour) must be followed to prevent it
Blood loss more than 1000 ml is major PPH and requires quick intervention and transfusion to save the mother's life
The 4 T's i.e. Tone, Tissue, Trauma, and Thrombin are to be remembered as causes, and looked for and treated promptly since the time to death in such cases can be just 2 hours
Eclampsia is an emergency which can often be prevented by recognising the danger signs, and controlling BP and perhaps starting prophylactic therapy
For all these situations, the speakers emphasised the importance of prevention and anticipation, rather than taking action afterwards as the key to reducing severity and death.
---
CMEs & Talks
'Detecting hypothyroidism in pregnancy'
The CME was dedicated to ICOG Founder Dr. C L Jhaveri. Dr. Shantakumari, current chairperson of Indian College of Obstetricians and Gynaecologists (ICOG) highlighted the importance of detecting hypothyroidism in pregnancy. She elaborated the 2017 ATA guidelines which state:
TSH (thyroid stimulating hormone) range should be ideally population specific, with standardised assays. If not available, use 4.0 as cut off. Use of anti-TPO (thyroid peroxidase) antibodies in conjunction help if TSH is >2.5 IU/ml up to 10
With TSH of 10 or more, treatment is to be started regardless of TPO levels
Although universal screening has not been started in India yet, our national guidelines suggest screening of women with risk factors. In practice, most obstetricians offer TSH screening in the first trimester.
---
Poor responders to ovulation induction
The speaker, Dr. Rishma Pai, Past president FOGSI, ISAR & IAGE, highlighted on what can be done for poor responders to ovulation induction from the point of the practising gynaecologists, and from the viewpoint of fertility specialists.
A few of the key points that were stressed upon:
The number of eggs retrieved is the major factor, along with the age, for results of fertility treatment
Age is a superior predictor, even more than AMH or AFC (antral follicular count) for ovarian response
The Bologna criteria (2 of 3) was being used to diagnose poor reserve, which is now being superseded by the Poseidon criteria
There is no point in starting with a very high dose of FSH (follicular stimulating hormone); 300 IU is enough
Tailoring the protocol to fit individual cases, use of GnRH (gonadotropin releasing hormone) analogue or microflare protocol may help
Dual trigger (hCG (human chorionic gonadotropin) + GnRH analogue) give better results in poor responders
DHEA (dehydroepiandrosterone) supplementation seems to improve the response by reducing DNA dosage
Double stimulation (FP + LP) along with egg freezing may help, and embryo pooling/multiple embryo transfers (up to 4) can be considered
Oocyte donation remains the best final option for poor responders with repeat IVF failures
Research on 'In vitro Activation and Augment Technique' was discussed as future options possible for poor responders with prior failed attempts
---
Placenta Accreta: How to predict and manage it?
Dr. Alpesh Gandhi (President-elect FOGSI 2020 and critical care specialist) presented a talk on Placenta Accreta, that has shown a marked increase with 3 or more caesarean sections. There has been a 10-fold rise in the past 50 years, and case fatality in India is nearly 10% and up to 70% morbidity if undiagnosed. He talked about the importance of anticipation and preparation in such cases.
Good diagnostic imaging with USG and MRI can help diagnose accreta in persistent low lying placenta, especially anterior in a scarred uterus
Patient should also have a TVS (transvaginal scan) which can be more helpful
Multispeciality team with interventional radiologist and urologist may be required
Choice of anaesthesia should be made keeping PPH in mind
Stepwise devascularisation and even obstetric hysterectomy may be required to save the life of the patient
---
Panel Discussions
Medico-legal: 'Death on Table- What next?'
The panel comprised of practising gynaecologists, medicolegal experts (Dr. Bipin Pandit, Dr. Lalit Kapoor, Dr. Nikhil Datar, Dr. Ashok Shukla) and lawyer Sujay Kantawala and consumer activist Jehangir Gai.
They debated on difficult situations, the fact that media is now anti-doctor and incidences of violence against doctors having increased. The following points were discussed:
Need for good communication and documentation of events
Challenges faced while breaking the bad news to relatives with a suggestion that the seniormost doctor or team leader should break the news with support from 2 or 3 peers
Honing verbal and non-verbal communication skills
Need for uniformity in the notes of the operating surgeons, anaesthetist, and nurses
Logging of the events that should be handled by a team member who is not actively involved in resuscitation
Pagination of notes and the importance of keeping a complete copy
During challenging times saving oneself should be a priority
Prior care, conduct, good communication is important
Involvement of the police is also important
Post-mortem legally is not compulsory for all maternal deaths but is advisable to have achieved completeness in the investigation as mentioned by Dr. Nikhil Datar and Dr. Ashok Anand (Head of DQAC maternal mortality investigation committee)
Doctor cannot attend the post-mortem as it may be considered as tampering with evidence
Formation of local action groups to help in doctors such situations, especially if they anticipate trouble/mob situations
This discussion was followed by presentations on the conference themes, and case discussions by senior practitioners before the evening cultural program and Banquet on the theme "100 years of Bollywood".
---
'Late fertility' by experts from the field of assisted reproduction
The conference had many academic messages, but also was a platform for interaction and camaraderie. The following was discussed:
AMH as a guide but not an absolute predictor of ovarian results
DHEA supplementation can be used as an additional therapy to increase ovarian reserve but is not supported by RCT
Testosterone gel is also being tried
For older patients, it was suggested that one good stimulated IUI cycle should be followed by options of IVF, embryo accumulation and pooling (over 2 cycles) and using HMG or purified FSH should be offered with the final option being, of course, donor oocyte
Most of the specialists preferred purified HMG with antagonist added
Antagonist protocol and agonist protocols can be tried but the response is unpredictable'
It ended with the valedictory session where a number of prizes were awarded in senior and junior categories to encourage and acknowledge the work done by the participants.
---
Pelvic floor at menopause
This had a panel of senior gynaecologists, vaginal surgeons, and laparoscopy experts. There was a discussion on: Women's sexuality and vaginal issues that need to be given priority after menopause
Need for emphasis on factors like optimum weight, correction of stress factors and overall health
Vaginal surgery for pelvic organ prolapse if possible as the preferred route
Prophylactic sacrospinous fixation at vaginal hysterectomy to prevent vault prolapse, but the need for it to be done by an experienced surgeon or if feasible
Reserving pessary only for cases unfit or willing for surgery
POPQ classification was discussed and found to be less useful in practice
---
Conference orations
'Leadership' by Dr. CN Purandare
The FIGO president spoke on his concept of leadership. He highlighted how a leader should be approachable but not always with the team so that they are encouraged to develop and grow.
'Emotional intelligence and smart apps in OBGYN' by Dr. Neeraj Bijlani
The speaker emphasised the need for doctors to keep up with the changing times and use technology usefully in their practice.
'What women want' by Dr. Nozer Sheriar
The MOGS Dr. S S Thakur conference oration given by Dr. Sheriar highlighted the need for choices of contraception, abortion, sterilisation, and conservation of genital organs. He spoke about the importance of counselling, caring, and involving women in choices related to reproductive health. He also spoke about how women now want to be involved in decision making.
'Mistakes I have made in my Life' by Dr. PC Mahapatra
The Past President of FOGSI from Odisha held the audience spell-bound with personal anecdotes and real-life situations which taught him many lessons. He emphasised that we should learn from other people's mistakes and gain from our own.
He also advised doctors to introspect, critically analyse, and keep oneself updated all the time. Dr. Mahapatra mentioned that making a mistake is a norm, but admitting the mistake is a boon. Fulfilling the commitment given is a priority and he advised the audience to 'under-promise and over-deliver' rather than 'overpromise and under-deliver'.
'Respectful Maternity Care' by Dr. Nandita Palshetkar
The President-elect, FOGSI 2019 emphasised that women want their choices and concerns to be addressed. She noted that:
Medicalised maternal and newborn care is sticking to standard, age-old practices or rigid adherence to norms and technology. Not only does this increase cost, but it also leads to patient dissatisfaction with care.
Practices which can be lifesaving if used judiciously, but harmful if used incorrectly include, induction of labour, episiotomy, restricting oral intake and nasal suctioning of the newborn.
Unnecessary caesarean section is a burning issue today. Although WHO standard says 5 to 15% is variable within a country, strategies should be indicated, classified (as per Robson's criteria) and audited.
Harmful practices like early cord clamping, mother-baby separation and overuse of analgesia should be avoided.
Midwife-led care may be associated with less medicalisation of care.
Presence of a birth companion improves both outcome and patient satisfaction.
WHO 2016 set out 8 standards for improving quality of MCH care, quality assurance care. FOGSI's mission for Manyata certification has already accredited 320 MCH facilities as of 2018 based on 16 preset criteria.
LAKSHYA launched by Govt of India in 2007 is also progress towards labour room accreditation.
She emphasised that her theme for the year 'We for stree' would include this aspect.
Disclaimer- The views and opinions expressed in this article are those of the author's and do not necessarily reflect the official policy or position of M3 India.
The writer, Dr. Reena Wani is a Professor (Addl) & Head of Department, Dept of Obstetrics & Gynecology at a reputed Mumbai Hospital.
Sign-up to continue reading. It is free & takes less than 2 mins
45 lakhs+ doctors trust M3 globally

Free & unlimited access to original articles and quizzes

Secure: we never sell your data
Topic: General medicine, Family medicine
Adding probiotics to sequential H. pylori eradication therapy does NOT have an impact on which measure?
Weekly competition with peers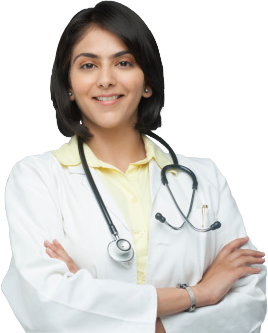 Why join our Market Research Panel?
10K+ Doctors participated

in 40+ Indian and Global studies in 2018
Average honorarium per study was

Rs. 1,600

and total honoraria as high as

Rs. 12,000

was earned by a Doctor
This article is only available to members. Are you a doctor? Click here to signup for free.