New 4-step approach to remove nasal foreign bodies
M3 India Newsdesk Nov 20, 2018
Though nasal foreign bodies (NFBs) are benign in nature, they are likely to cause mucosal damage, bleeding, infection, and also aspiration in extreme cases. To develop better success for NFB removal mainly in the first try, a simple 4-step approach has been devised, and presented by Tian-Tee Ng and Michael Nasserallah in their paper titled 'The art of removing nasal foreign bodies'.


A common presenting complaint seen in the emergency department is one of a nasal foreign body (NFB) which is usually noticed in the paediatric population, and in patients with psychiatric illness or developmental disabilities. Children have more interest in exploring their bodies so there are more chances of them placing objects in their nasal cavities.

There are two types of NFBs:
Organic: Examples include paper, sponge, nuts, and beans
Inorganic: Examples include beads, pieces of toys, foam, batteries or magnets
---
Clinical representations of NFBs
Organic objects
A rapid inflammatory response
In the nose, parasitic or larvae infections are only found in rare conditions
Inorganic objects
Corrosive damage caused due to current generation between battery anode and cathode by tissue fluid is commonly seen with NFBs such as button batteries used in children's toys, calculators, and remote controls
Mucosa and pressure necrosis are also seen with the direct current effects
A septal formation can be seen within 4 hours
Other complications
Among the two sites of the nasal fossae, the floor of the inferior turbinate or anterior to the middle turbinate are the likely sites where NFBs find place
Local inflammation produced by the foreign body can cause pressure necrosis
Epistaxis is caused due to the erosion of blood vessels as a result of increased mucosal ulceration
NFBs can enter the respiratory tract if they move posteriorly and can cause secondary morbidities
Rhinoliths are the calcified form of nasal foreign bodies that may present for a long phase of time
---
Treatment & Management
Mostly, laboratory investigations are not necessary. In case there is a doubt or any suspicion or poorly visualised battery or magnet, imaging can be performed. Before starting the treatment of NFB in a child, a proper history should be taken. The pathognomonic sign of a retained NFB is seen in cases of a child having a foul-smelling unilateral nasal discharge.
Techniques available for removal of NFBs:
A bright light source such as a headlamp is needed for the removal of NFBs.
Other needed instruments include a nasal speculum, various size probes, curettes, and alligator forceps.
If the NFB is a paper or sponge material, it is dragged out directly by the use of alligator forceps.
Curette and probes are best used for removing smooth and spherical objects by placing them behind the object and then pulling the object forward.
Another method of removal is by forced exhalation and this may involve the parent or the use of a bag valve mask (BVM).
To remove or lower an object into the nasal passages, suction may be used. Flexible suction catheters or Yankhauer can be utilised on patients based on their size.
If the patient is very cooperative, glue can be applied in such cases. By applying a cotton swab with a small amount of glue to a spherical, well-visualised object, the object can be dragged forward and out.
The practitioner should have suction readily accessible, and it is imperative that the child's parent or a caregiver hold the child tightly as is done in a papoose or with sheets in the sniffing position.
Under sedation, the foreign body is capable of freeing and causing aspiration if it moves posteriorly. Hence, a precondition to prepare for an advanced airway if required should be in place.
A topical vasoconstrictor can be used to envisage the object, to reduce bleeding and to dry the secretions. However, this is not recommended in the cases where there is a possibility of a button battery as there are chances of increased acid leakage.
---
The '4-step approach' used for examination and removal of NFBs*
Step 1

To free both your hands, use a headlight
To get the NFB out, one hand should be used to hold the nasal speculum and the other hand should be used to hold the instrument of choice

Step 2

A Killian nasal speculum is used to examine the nose of the patient
NFB removal may fail in cases of congested turbinates, so the use of a speculum is important in such cases

Step 3

A decongestant is sprayed into the nose to anaesthetise and decongest the nasal cavity.

Step 4

Make sure the child is well controlled by the parent or carer, which is crucial because the child's nose can be injured by the instruments, and can cause epistaxis
Note: The procedure of NFB removal should only be done once the child is quiet and well controlled.
Advice is given to the carer or parent that if the patient develops a foul-smelling nasal discharge or has any other nasal symptom, he/she should be brought back to the clinic
---
Points to keep in mind
A child having NFB normally only permits one or two attempts for removal of the NFB, so this should only be done by an experienced medical personnel.
An experienced medical person should perform all first attempt failed removals.
If there is lodging of any button batteries, magnets, or posterior displacement of any objects, an otorhinolaryngologist (ENT) referral should be made since a nasal endoscopy or removal of the NFB in the operating room may be needed.
Due to the increased risk of choking and aspiration, flushing is not recommended anymore.
---
*Reference:
Tian-Tee Ng and Michael Nasserallah.The art of removing nasal foreign bodies.Open Access Emerg Med. 2017; 9: 107–112.
Sign-up to continue reading. It is free & takes less than 2 mins
45 lakhs+ doctors trust M3 globally

Free & unlimited access to original articles and quizzes

Secure: we never sell your data
Topic: General medicine, Family medicine
Which parameter is NOT affected by using olmesartan-based, single-pill, dual-combination (+ amlodipine/azelnidipine or HCTZ) therapy vs olmesartan monotherapy for 8 weeks in adults with hypertension?
Weekly competition with peers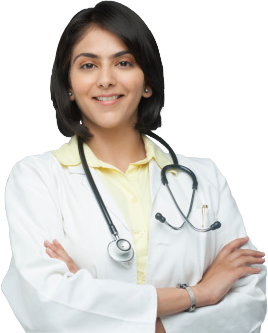 Why join our Market Research Panel?
10K+ Doctors participated

in 40+ Indian and Global studies in 2018
Average honorarium per study was

Rs. 1,600

and total honoraria as high as

Rs. 12,000

was earned by a Doctor
This article is only available to members. Are you a doctor? Click here to signup for free.