Healthcare Services Personnel and Clinical Establishment Bill 2019: Fear vs empathy to protect doctors
M3 India Newsdesk Sep 11, 2019
The Healthcare Services Personnel and Clinical Establishment (prohibition of violence and damage to property) Bill 2019, which criminalises assault on doctors, may have been too late for Dr. Deben Dutta, but will it help keep doctors safe after it is passed? Or is it a weak attempt to pacify the medical community that has been up in arms this year, with serial protests demanding an end to violence against doctors?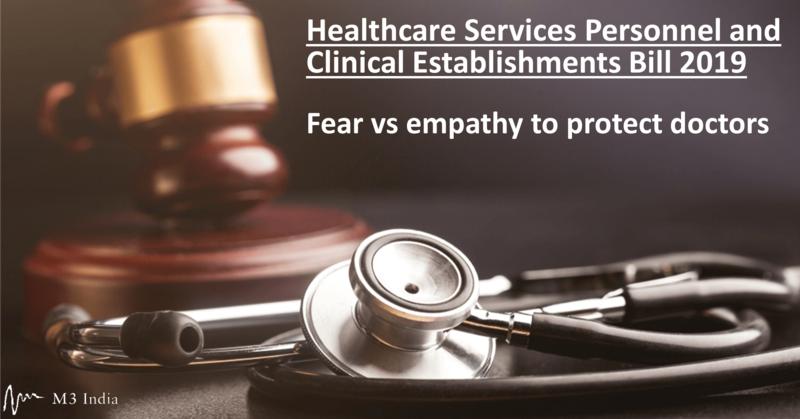 The bill was announced by the Centre just three days after a mob attacked a 73-year-old doctor, a senior medical officer with a tea estate in Assam, following the death of a patient.
Announced on September 2, the bill stipulates fines and jail terms for those who attack healthcare personnel or incite violence against them; such persons may have to face six months to five years of imprisonment, along with fines up to Rs. 5 lakhs. If the violence leads to any grievous injury, imprisonment goes up to ten years with fine up to Rs. 10 lakhs. Intimidation too is a punishable act and in case of any property damage, the convicted person may have to pay twice the amount of fair market value of the vandalised property.
Notwithstanding anything contained in the Code of Criminal Procedure, 1973, an offence punishable under this Act shall be cognizable and non-bailable, and will be investigated by a police officer not below the rank of Deputy Superintendent of Police. The new law will be applicable to registered medical practitioners, dentists, registered nurses, midwives, auxiliary nurse-midwives, health visitors and medical students. In addition to hospitals, clinics and diagnostic laboratories, and even ambulances come under its ambit too.
---
A former doctors' union member from West Bengal, which has been the epicentre of these protests by junior doctors and medical students, said that while it's not enough, it might be the first step needed to create a better environment for doctors. But he feels before meting out punishments for those who attack doctors, the focus should be on not letting such incidents happen at all.
"The security in many government hospitals is very less. In any hospital in West Bengal, you can see how small the security personnel are compared to the doctors. And those allocated to hospitals are also not very efficient. Coupled with a steep doctor-patient ratio, this makes working conditions very unstable for us," he said, calling it nothing short of harassment.
It is worth noting that such laws haven't necessarily succeeded in the past. In 2009, Karnataka enacted the Prohibition of Violence Against Medicare Service Personnel and Damage to Property in Medicare Service Institutions Act which prescribed jail terms and fines. But only 173 cases were registered between 2010-2017 in the state; 23 went to trial resulting in just three convictions. There was no case where compensation was awarded to the victim.
A Bengaluru-based doctor, who wished to remain anonymous, said the bill doesn't serve its purpose, which is to help patients and their families empathise with their doctors. "Doctors by virtue of their profession and by their choice to serve society, don't believe in penalising a set of people who have already lost a family member. We'd just want justice and the society to let us work in peace. Doctors also understand that the anger is misdirected. So, we just want the awareness of breaking the law to be widespread."
The Ministry of Health has announced that the bill will be open for consultation among stakeholders till October 2. With the draft legislation being approved by the health minister, an eight-member committee will sit down to thresh out the final bill that will be introduced in the parliament.
The author, Ayswarya Murthy, is a Bangalore-based freelance writer and a member of 101Reporters.
Only Doctors with an M3 India account can read this article. Sign up for free.
55 lakhs+ doctors trust M3 globally

Unlimited access to original articles by experts

Secure: we never sell your data

Signing up takes less than 2 mins
Try M3 India / Log In