Monkey Fever: Treatment and precautions for clinicians by Dr. TV Rao
M3 India Newsdesk Jan 07, 2019
Dr. TV Rao, a noted clinical microbiologist writes on Monkey Fever, a tick-borne viral haemorrhagic fever, endemic in 5 districts of Karnataka already, and now gradually spreading to neighbouring states as well.

When a forest cover is cleared, animals get displaced. When traversing to find a new settlement, primates such as langur, bonnet macaques, and lion-tailed macaques leave behind ticks on the ground. These ticks, belonging to the Flaviviridae family, latch on to domestic animals and subsequently affect human beings.
People with recreational or occupational exposure to rural/outdoor settings (hunters, shepherds, forest workers, tribal farmers) are in danger of contracting KFD. Seasonal change is another risk factor as more cases are reported during the drier months, from November to June.
Here we get Dr. TV Rao, a noted Clinical Microbiologist, to throw light on the finer details of this little-known disease.
---
What happens when a person contracts monkey fever?
Dr. Rao: After an incubation period of 3 to 8 days, the symptoms of KFD begin suddenly with chills, fever, and headache. Severe muscle pain with vomiting, gastrointestinal symptoms, and internal bleeding may occur 3 to 4 days after initial symptoms surface. Patients may experience abnormally low blood pressure, and low platelet, red blood cell, and white blood cell count.
What is the recovery procedure of a KFD patient like? How long does it take one to get cured?
Dr. Rao: After 1 to 2 weeks of symptoms, some patients recover without any complications. However, the illness is biphasic for a subset of patients (10-20%) who experience a second wave of symptoms at the beginning of the third week. These symptoms include fever and signs of neurological manifestations, such as a severe headache, mental disturbances, tremors, and vision deficits.
How is KFD diagnosed and treated?
Dr. Rao: Diagnosis can be made in the early stages of illness by molecular detection through Polymerase Chain Reaction (PCR) kits or virus isolation from blood. Later, serological testing using Enzyme-Linked Immunosorbent Serologic Assay (ELISA) can be performed.
There is no specific treatment for KFD but early hospitalisation and supportive therapy are important. Supportive therapy includes the maintenance of hydration and the usual precautions for patients with bleeding disorders. In the advanced stages, there is no definite curative treatment. The physicians should contact state health authorities to get information about the testing protocols and facilities available locally.
Author's input: The Southern districts of Karnataka, Tamil Nadu state and parts of Malabar region of Kerala are equipped with molecular level detection kits, PCR kits and ELISA kits for early detection of the infection. These three states have been exposed to many green fields projects of railway, highways, industrial development and many other types of clear felling of forests, which is why they are more prone to KFD. A PCR test costs anywhere between Rs 8,000 and Rs 12,000. About 5% patients would die if not treated.

Since KFD outbreak takes place in areas where forests are being denuded, what precautions should doctors advise people living in these areas to avoid contracting the disease?
And, what precautions should doctors themselves take while treating KFD cases?
Dr. Rao: Vaccine does exist for KFD and is used in endemic areas of India. Additional preventative measures include insect repellents and wearing protective clothing in areas where ticks are endemic.
In KFD, no person-to-person transmission has yet been described. It means doctors cannot be infected by touching the patients, or by the respiratory route. However, doctors, paramedical staff such as technicians and patients' attendants, and nurses should follow standard safety procedures while treating sick patients who may also likely be infected with HIV/HBV/HCV.
Article was originally published on February 27, 2018.
Interview by M Raghuram and Elizabeth Mani, freelance writers and members of 101Reporters.com, a pan-India network of grassroots reporters.
Sign-up to continue reading. It is free & takes less than 2 mins
45 lakhs+ doctors trust M3 globally

Free & unlimited access to original articles and quizzes

Secure: we never sell your data
Topic: General medicine, Family medicine
Adding probiotics to sequential H. pylori eradication therapy does NOT have an impact on which measure?
Weekly competition with peers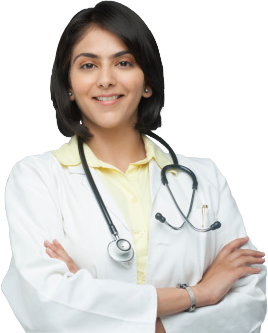 Why join our Market Research Panel?
10K+ Doctors participated

in 40+ Indian and Global studies in 2018
Average honorarium per study was

Rs. 1,600

and total honoraria as high as

Rs. 12,000

was earned by a Doctor
This article is only available to members. Are you a doctor? Click here to signup for free.