Follow this protocol while writing a prescription
M3 India Newsdesk Jan 07, 2020
A doctor's everyday activity of writing prescriptions needs to follow certain guidelines. Moreover, following protocol can save trouble later on. It is, therefore, imperative that doctors prescribe not only the right drug at the right time but also the right dose for the right duration.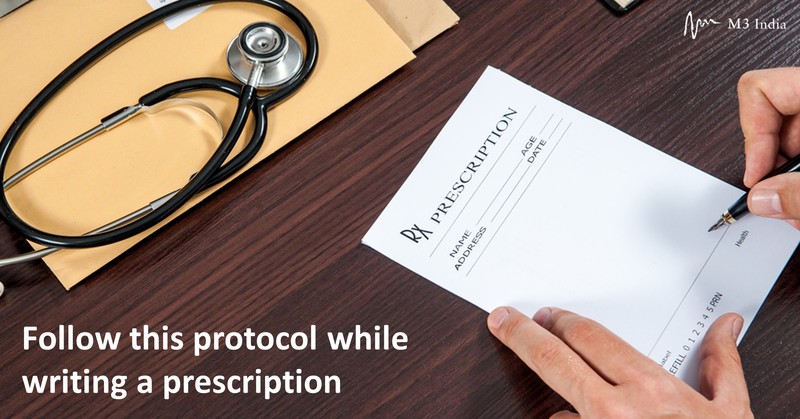 According to Bangalore-based National Institute of Mental Health and Neurosciences (NIMHANS), over 14% of their patients are addicted to prescription drugs, including opioids. Not only patients, but also their family members tend to use surplus medication, such as sleeping pills. Withdrawal leads to cognitive issues and addiction to prescription drugs could lead to other side effects.
The Medical Council of India has specified dos and don'ts when it comes to writing prescriptions. Getting medical prescriptions right is crucial to minimise the scope for medicine misuse. Therefore, it's imperative that doctors prescribe not only the right drug at the right time but also the right dose for the right duration.
---
Doctors are advised to adhere to the following protocol while writing a prescription:
The doctor's full name, address, consultation timings, contact numbers have to be printed on the prescription letterhead
All the degrees, especially the primary degree, should be printed on the letterhead as well
The doctor's registration number and the registering authority must be printed on the letterhead too
The doctor's full signature with date, in blue indelible ink, should be present on the prescription
Date of issue of prescription should be mentioned
The stamp, including doctor's full name, qualifications, and registration number should be present on the prescription
The patient's full name, age, gender, weight and full address, including telephone number should also be mentioned
---
Guidelines for writing medicines on prescriptions
Name of the medicine: Write the generic name in capital letters, avoid abbreviation or scribbling the name of the medicine. According to an MCI circular, "While using of generic drug names, every doctor should prescribe drugs with generic names legibly and preferably in capital letters and shall also ensure that there is a rational use of drugs."
Mention the dose, strength, route of administration and duration. Steer clear of overprescribing drugs.
Mention dosage form: Mention DT or tablet or syrup and even the total quantity. Clearly mention refill information. For example, write: "Medicines should not be refilled" or "Don't dispense more than once." This deters patients from refilling or repurchasing with the same prescription again and again, unless the doctor prescribes it.
Don't prescribe medicine over the telephone or through SMS. This is allowed only during emergency situations, but doctors still need to speak to the pharmacist to reinforce the prescribed order.
Don't leave behind blank, pre-signed prescriptions.
Don't endorse medical stores, like, "Available at XYZ medical stores."
Be cautious in prescribing habit-forming medicines or drugs such as sedatives, hypnotics, codeine-containing cough syrups and buprenorphine among other things. Inform the patient about their potential for addiction as well as the dangers of long-term and excessive use. Such drugs should be handwritten separately and not computerised or typed.
---
Stick to your specialty
Only a doctor registered with the respective state medical council is authorised to prescribe allopathic medicines.
Dentists and veterinary doctors should prescribe medicines related to their branch alone. Prescribing for ailments outside their specialty is illegal and punishable by law.
AYUSH doctors are not authorised to prescribe allopathic medicines to patients.
The author is a Mumbai-based freelance writer and a member of 101Reporters.com, a pan-India network of grassroots reporters.
Only Doctors with an M3 India account can read this article. Sign up for free.
55 lakhs+ doctors trust M3 globally

Unlimited access to original articles by experts

Secure: we never sell your data

Signing up takes less than 2 mins
Try M3 India / Log In