'Violence in hospitals- its ill effects and prevention'- Dr. AP Setia
M3 India Newsdesk Jul 01, 2019
For Doctors Day this year, Dr. AP Setia, an eminent physician writes on the subject of violence against doctors in India, a predicament that is rapidly increasing by the day. He mentions a few possible solutions to resolve this and prevent future incidents too.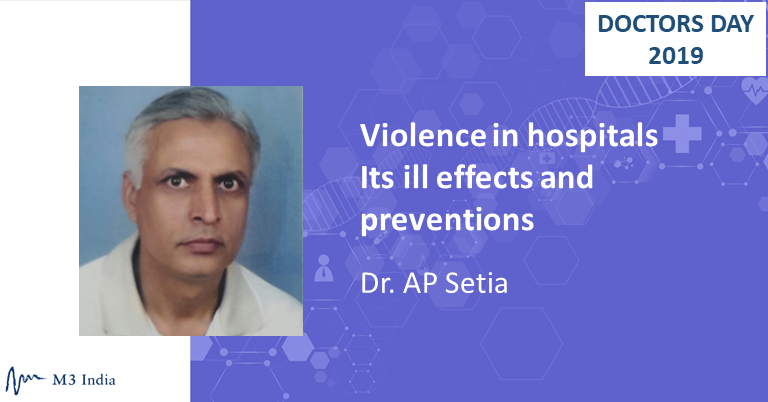 In India, 1st July is celebrated as National Doctors Day. This happens to be the day on which legendery physician Bharat Ratna awardee, Dr. BC Roy was born. A day in a year to recognise the selfless efforts of doctors to keep the society healthy is an excellent initiative. Healthcare organisations and NGOs honour doctors on this day.

The word doctor has always symbolised compassion, dedication, modesty, honesty, inspiration, idealism, and sacrifice, and doctors are often looked upon as demigods. But, in the current milieu the demigods are being viewed as devils by the society. And the trust deficit between the doctors and their patients has increased manifold; leading to frequent incidences of assault on doctors. Hardly any day passes, without the bad news of such an incident in the nation.

It is high time that the intellectuals, opinion makers, NGOs, and policy makers realise the consequences of this social evil, and analyse as to what has gone wrong and how to curb this menace. As a result of these assults, a good number of doctors in private practice have changed their attitude and pattern of practice. The critical patients are being referred to higher centres; for fear of mortality and consequent violence.

The next generation is not keen to take up this profession. Medical profession as a career option, in general, has been pushed to the lower side of the scale. After all, who would like to become a doctor to work under such a charged atmosphere of violence. One's personal safety is more important than saving human lives. All this, despite the fact that one has to be brilliant and study 5.5 to 11.5 years to be a qualified and specialist doctor in modern medicine.

It has been aptly remarked, "It is a blessing to be a doctor but to practice as one, in India is worse than sailing in turbulent waters." If the present trend of violence against doctors continues, it would be difficult to find good doctors in a decade or two. A large number of the existing doctors may migrate to safer work milieus abroad. Those staying back may have to say, goodbye to medical practice.

The violence in Clinical Establishments not only affects the doctors and paramedics but involves damage to vital equipment and infrastructure as well. There is interruption in medical care to other hospitalised patients in the same institution. The consequences of such a mishap in case of those who are under intensive care or undergoing surgical treatment at that moment of time are difficult to imagine.
How can doctors provide their services in a state of an unexpected riot like situation in a hospital created by angry mobs who may reach the hospital in truck loads in a few minutes, due to fast methods of communication like WhatsApp group messaging? Even the limited number of security personnel present there may not be able to control them. By the time the police arrive, extensive damage may have taken place.

A stringent Central law to punish those who indulge in such violent activities and vandalism is the need of the hour. The law ought to be notified with suitable amendments to the Indian Penal Code as well as Code of Criminal Procedure. A new section may be added to cover offences under this Act with detailed description of procedure to be followed in C.P.C. Imprisonment of 7 to 12 years along with penalty for damages to equipment, infrastructure, building, and compensation to those who suffered physical assault, psychological trauma and setback to professional career.

Though a good number of states have notified such Acts in the last few years but because their provisions are not as per I.P.C. there is a lot of difficulty in getting the same executed. For example, 'The Haryana Medicare Persons and Medicare Services Institutions (damage to property and prevention of violence) Act 2009- in it rules as per Section 7 (1) need to be framed and Standard Operating Procedure( SOP) too needs to be defined. One has to carry the copy of the said Act alongwith other documents to the police station for its implementation.
---
A clear and precise Central Law shall act as a deterrent for potential miscreants. And it will be a milestone to curb the social evil of violence in hospitals. Lack of health education amongst the masses is also a reason behind this malady. Even the educated persons are not very knowledgeable about the prevalent systems of Health Care and the limitations under which present day doctors have to work. The expectations of the patients and their attendants are exceeding beyond any logic. The doctor can make efforts but it is not possible to save every one who reaches the hospital. The response to treatment as well as extent of recovery shall be specific for each patient. It shall depend on the stage of illness at which patient reaches the hospital as well as on the type of illness.
Though medical science as advanced a lot, we don't have sure methods of recovery for many ailments. But somehow the attendants of the patients have an impression that once a patient has entered the hospital, he or she must survive irrespective of the illness concerned. And if those expectations are not met, there is suspicion of medical negligence and conseqent raised tempers. It is high time that preliminary education about health is imparted at the high school level.

If the patients or the attendants have doubts about medical negligence, they should clear the doubts by sitting across the table. In few unfortunate complicated cases of death, postmortem can be done. There is an option to lodge a complaint with the Chief Medical Officer of the District Government Hospital to get the alleged case of medical negligence examined by a board.
In Haryana, District Medical Boards had been notified on 31st May 2017 vide No25/10/2017-6HB1, Haryana Government, Health Department; in pursuance of Hon.Apex Court orders dated 5.8.2005 in Jacob Mathew's case, passed in Appeal(Crl)144-145of 2004. There is yet another option to lodge a complaint in the Consumer Protection Forum. These are civilised ways to get one's grievances addressed. But, in no situation, attendants or patients should take the law into their own hands. The 'lakshman rekha' of decency need not be crossed, under any circumstances.
---
The ever increasing , 'out of pocket' expenditure on healthcare is yet another factor; responsible for the strained relationship between doctors and patients. Very few families, plan a budget for their health needs. Still lesser numbers have medical insurance cover. Therefore, on one hand there is anxiety because of illness and on the other hand, there is the tension to pay the bills. This leads to misunderstanding and consequent violence. There is a need to educate masses about the concept of health insurance. The insurance companies too ought to modify the terms and include expenses incurred on outpatient treatment as well, apart from those being clubbed with hospitalisation. This way, more people would be able to get benefits of health insurance, thus making these insurance plans more inclusive.
---
A few possible solutions to the issue at hand...
The opinion leaders, the social scientists, the government, health administrators and medical professional associations need to come together to devise ways to decrease the trust deficit between the doctors and their patients.
The old concept of family doctor should be revived. And, a need-based referral system for consultation with specialist and superspecialist doctors should be formulated to change the current practice of 'organ' treatment to 'whole body and mind' approach.
The MBBS graduate can effectively play the role of a coordinator cum family doctor. Thus, there would be less chances of missing patient findings in the clinical diagnosis as well a lesser need for costly investigation by modern high tech gadgets. The latter is a boon as well a bane for the modern era depending on as to how these are deployed.
The media too can play a significant role in diffusing the tense situation between patients, their attendants, and the treating doctors. Only the evidence-based news should be published about controversy regarding medical negligence.
The media ought to excercise self restraint, regarding publishing any analysis or conclusions, till the matter is investigated. Such a policy shall go a long way in restoring the raised tempers.
Developing good relations between the patients and doctors is the need of the hour. It can be done by patience, understanding and a positive attitude.
---
On Doctors Day or better titled as 'Doctors SAFETY Day' , all the stakeholders need to pay heed to the issues raised vide supra; so that doctors may be able to serve the ailing masses in a less stressful milieu, devoid of the fear of sudden violence.

Disclaimer-The information and views set out in this article are those of the author(s) and do not necessarily reflect the official opinion of M3 India. Neither M3 India nor any person acting on their behalf may be held responsible for the use which may be made of the information contained therein.
The writer, Dr. AP Setia is an acclaimed physician, a Patron of IMA Haryana 2019 and a National Awardee, IMA Doctor of the Year 2018.
Sign-up to continue reading. It is free & takes less than 2 mins
45 lakhs+ doctors trust M3 globally

Free & unlimited access to original articles and quizzes

Secure: we never sell your data
Topic: General medicine, Family medicine
Low-dose imipramine (vs placebo) increases the rate of which outcome in patients with treatment-refractory functional dyspepsia?
Weekly competition with peers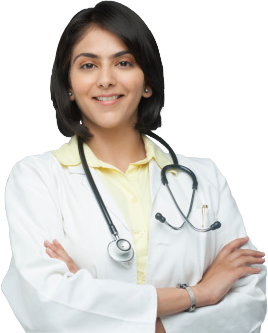 Why join our Market Research Panel?
10K+ Doctors participated

in 40+ Indian and Global studies in 2018
Average honorarium per study was

Rs. 1,600

and total honoraria as high as

Rs. 12,000

was earned by a Doctor
This article is only available to members. Are you a doctor? Click here to signup for free.