Audio-video recording of consultation: Dr. MC Gupta explains medicolegal aspects
M3 India Newsdesk Mar 13, 2019
In this digital age, audio/video recording of patient encounters is set to become the norm of the day. The medico-legal expert, Dr. MC Gupta helps us understand what exactly are the laws governing patient recordings.

QUESTION— What are the legal aspects of recording clinical visits?
Dr. MC Gupta answers..
1—As a general legal principle, secretly recording somebody's activities amounts to intrusion of his privacy. Privacy has been recognised by the Supreme Court of India as a fundamental right under the enlarged interpretation of Article 21 of the Constitution of India. On the 24th of August, a nine-judge bench of the Supreme Court delivered its verdict* in Justice K.S.Puttaswamy(Retd) ... vs Union Of India And Ors., unanimously affirmed that the right to privacy is a fundamental right under the Indian Constitution.
2—According to Dartmouth Institute for Health Policy & Clinical Practice, USA,
i)--If you are doctor, there is a good chance that at least one of your last 10 patients recorded their visit -- either with or without permission.
ii)--There may be two situations—when both parties consent or only one party's consent is there. In 'all-party' jurisdictions, covert recordings, on the part of doctors or patients, are illegal as everyone being recorded must consent. In 'one-party' jurisdictions, the consent of any one party in the conversation is sufficient, so a patient can record a clinical encounter without the doctor or health care provider's consent. *Currently 39 of the 50 states and Washington, D.C., conform to the 'one-party' consent rule, while the remaining 11 are 'all-party' states.
iii)-- Lability insurers are happy with recording patient-physician meetings. At the Barrow Neurological Institute in Phoenix, Arizona -- one of the few health care organizations in the country to offer patients recordings of office visits -- doctors who take part receive a 10 percent reduction in the cost of their medical defense, and $1 million extra liability coverage.
iv)--"Most people are sharing their recordings with a family member or caregiver, or they are listening to recording themselves, so they can better recall the information they received during the encounter. In fact, in a review of 33 studies of patient use of audio-recorded clinical visits, the Open Recordings researchers found that 71 percent of patients listened to their recordings, while 68 percent shared them with a caregiver. The studies also reported greater understanding and satisfaction in patients who receive recordings.
v)--Health care overall is moving toward greater transparency and patient recordings are going to become more common**.
3—As reported in a recent issue in JAMA***, "For many clinicians, it is possible that some of their patients are recording their office visit, with or without permission. In a cross-sectional survey administered to the general public in the United Kingdom, 19 of 128 respondents (15%) indicated that they had secretly recorded a clinic visit, and 14 of 128 respondents (11%) were aware of someone covertly recording a clinic visit.
i)--Because every smartphone can record conversations, this may become even more commonplace. The motivation is often reasonable: patients want a recording to listen to again, improve their recall and understanding of medical information, and share the information with family members.
ii)--A review identified 33 studies (including 18 randomized trials) of patient use of audio-recorded clinic-visit information. Audio recordings were highly valued; across the studies, 72% of patients listened to their recordings, 68% shared them with a caregiver, and individuals receiving recordings reported greater understanding and recall of medical information."
4—Audio or video recording of consultation, if done with prior information / consent, is not wrong, unethical, or punishable. Such recording helps in transparency. It should be recommended rather than condemned.
---
Source:
*https://indiankanoon.org/doc/91938676/
**https://www.sciencedaily.com/releases/2017/07/170710135301.htm
***Elwyn G, Barr PJ, Castaldo M. Can Patients Make Recordings of Medical Encounters? What Does the Law Say? JAMA. 2017;318(6):513–514. doi:10.1001/jama.2017.7511
Disclaimer- The views and opinions expressed in this article are those of the author's and do not necessarily reflect the official policy or position of M3 India.
Content from the writer has been directly replicated on the website. No edits have been made.
The writer, Dr. MC Gupta is a practising lawyer specialising in medical negligence cases. He also has an MD Medicine from AIIMS, Delhi where he also worked as a faculty member for 18 years, later working another 10 years as a Professor and Dean at National Institute of Health and Family Welfare, New Delhi, before pursuing law.
Sign-up to continue reading. It is free & takes less than 2 mins
45 lakhs+ doctors trust M3 globally

Free & unlimited access to original articles and quizzes

Secure: we never sell your data
Topic: General medicine, Family medicine
Which parameter is NOT affected by using olmesartan-based, single-pill, dual-combination (+ amlodipine/azelnidipine or HCTZ) therapy vs olmesartan monotherapy for 8 weeks in adults with hypertension?
Weekly competition with peers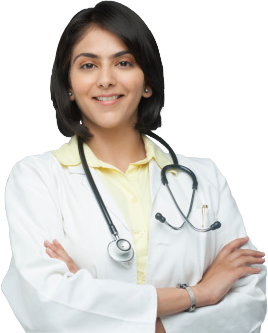 Why join our Market Research Panel?
10K+ Doctors participated

in 40+ Indian and Global studies in 2018
Average honorarium per study was

Rs. 1,600

and total honoraria as high as

Rs. 12,000

was earned by a Doctor
This article is only available to members. Are you a doctor? Click here to signup for free.