What are the implications of the National Medical Commission Bill?: Dr. Gaurav Thukral
M3 India Newsdesk Aug 06, 2019
Dr. Gaurav Thukral explains in a nutshell what the immediate outcome of the new NMC bill will be and how the actions that unfold will affect the medical community in the country.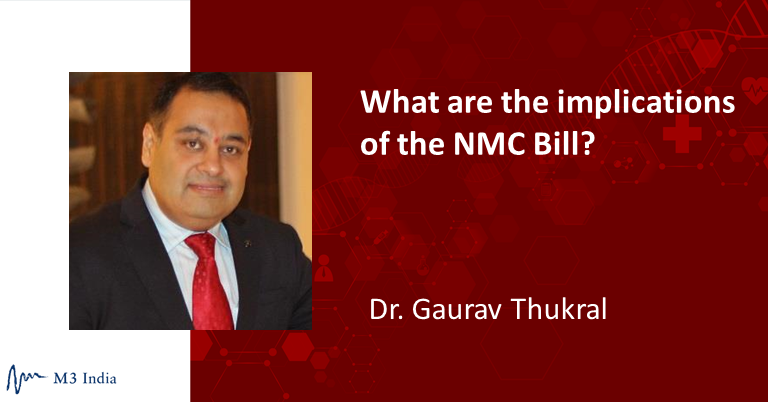 The Parliament has recently approved the NMC, and we also see a lot of protests and uproar from the doctor community, IMA, and especially medical students. What does it mean for the existing and future doctors of the country?
---
Replacing MCI
This is a welcome move owing to the rampant corruption of the body The NMC will comprise of 25 nominated members each of whom will have a tenure of 4 years and there will be 4 boards looking after various affairs as below:
Undergraduate Medical Education Board
Postgraduate Medical Education Board
Medical Assessment and Rating Board
Ethics and Medical Registration Board
However, what is still not clear is if there is any effort that will be made on revamping the medical curriculum with clear focus on:
Depth rather than the breadth of syllabus- As a fresh medical graduate, would it be okay to know a few important things in detail which he/she is going to use more often or know everything which he/she is probably never going to use?
More practical usage of knowledge at the undergrad level
More focus towards specialisation from the 3rd year onwards
Emphasis on patient communication and how doctors should communicate with other doctors
DNB degrees awarded by the National Board of Examination which is still not under the ambit of this commission, and it constitutes 8000 seats in private hospitals
---
PG entrance examination to be merged with NEXT-exit licentiate examination for Indian and foreign medical graduates
Again a welcome move as it would hope to churn out medical graduates with some basic eligibility. This would help bridge the gap between the outcomes of a good and not so very good medical college. Also it would prevent suboptimal doctors getting registration to practice and hopefully improve the quality of MBBS doctors.
However, unlike the west this is a single licentiate examination with no mandate of renewals. In absence of any clarity on the contours of the exam, there is a lot of mistrust and agitation among medical students as it impacts them in a big way.
---
Control on the fee of only 50% of seats of private medical colleges – this could be a double edged sword
On one side, it will encourage more private players but at the same time dilute the impact of PMT. Hopefully the exit exam will do the balancing act here.
---
State MCI dilution
They will get replaced by an advisory council but will lack teeth, with more control of the central government. This could lead to over-centralisation of cases related to medical ethics and negligence hence leading to delays. Also the composition will give a state representation once in 10 years.
---
Bridge course for non-doctors
This is one of the most controversial clauses and is getting a lot of backlash. It aims to induct one third of the professionals into modern medicine by registering under this act to practice in periphery and preventive medicine by the name of community health providers.
In absence of the checks and balances this might lead to legalisation of quackery. Also, it doesn't clarify if this is applicable to Ayush professionals or nurses and dentists too. Aiming at easing out the doctor population ratio of India which is 1:1655 against a world average of 1:1000, this bill is also seen benefiting pharma companies with more prescription of allopathic medicines and setback to the virtues of Ayush models of medicine.
The government should balance out the pros and cons of the bill before enforcing the law by adequately addressing the concerns of the medical community.
---
To read another expert opinion on the NMC bill, click The National Medical Commission Bill 2019: Half-baked and in need of further reconsideration! Dr. Soham D Bhaduri
Disclaimer- The views and opinions expressed in this article are those of the author's and do not necessarily reflect the official policy or position of M3 India.
The author, Dr. Gaurav Thukral is the Vice-President and COO at HCAH, Mumbai.
Sign-up to continue reading. It is free & takes less than 2 mins
45 lakhs+ doctors trust M3 globally

Free & unlimited access to original articles and quizzes

Secure: we never sell your data
Topic: General medicine, Family medicine
Prior infection with which virus confers protection against subsequent febrile respiratory illness?
Weekly competition with peers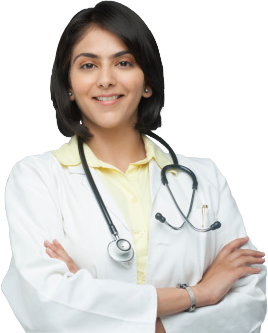 Why join our Market Research Panel?
10K+ Doctors participated

in 40+ Indian and Global studies in 2018
Average honorarium per study was

Rs. 1,600

and total honoraria as high as

Rs. 12,000

was earned by a Doctor
This article is only available to members. Are you a doctor? Click here to signup for free.