What is the standing of BAMS doctors working in wards, OPD, OT, and CCU? Dr. MC Gupta answers
M3 India Newsdesk Jul 16, 2019
Dr. MC Gupta throws light on the laws about a very imminent topic for the medical community and helps to understand where do non-MBBS doctors stand.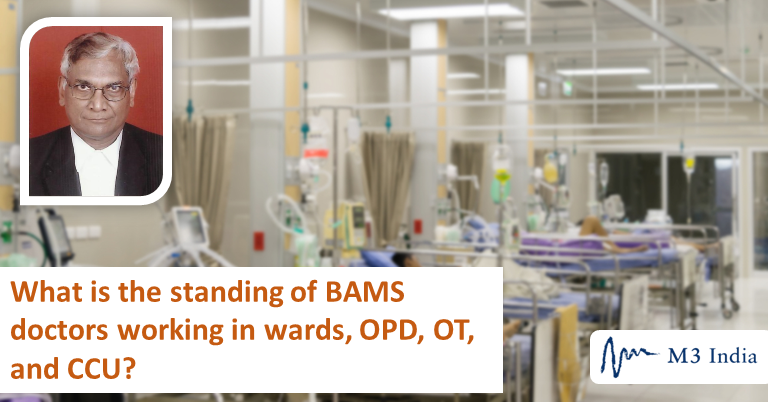 What is the standing of BAMS doctors working inwards, OPD, OT and CCU?
Dr. MC Gupta: Zero. This has been so held in NCDRC and SC judgments.
---
Are they permitted as per MCI or government rules?
Dr. MC Gupta: They are not permitted by MCI.
---
Many hospitals keep BAMS and Homeopaths for administration, filling and maintaining patients file, front office/receptionist, PROs, etc as they are expected to have basic knowledge of medical terms. Is it justified/legal as long as they are kept away from treatments and this is clearly written in their appointment letter?
Dr. MC Gupta: Yes. It is legal as per the written word. However, the fact is often that whatever their paper designation, the AYUSH graduates are allowed to perform medical duties.
---
If they are not permitted by MCI - what is the penalty for allowing them to work in allopathic hospitals?
Dr. MC Gupta: The licence/registration of the hospital (by CMO or under the state CEA or Nursing Home Act) can be cancelled.
---
Who is to be informed in case they are being made to work by admin?
Dr. MC Gupta: Not merely an information but a complaint should be lodged before:
i)--CMO / Appropriate Authority under the CEA / state directorate of Health Services.
ii)--Consumer courts
iii)--Medical Council
iv)--Police
Disclaimer- The views and opinions expressed in this article are those of the author's and do not necessarily reflect the official policy or position of M3 India.
Content from the writer has been directly replicated on the website with minor edits.
The writer, Dr. MC Gupta is a practising lawyer specialising in medical negligence cases. He also has an MD Medicine from AIIMS, Delhi where he also worked as a faculty member for 18 years, later working another 10 years as a Professor and Dean at National Institute of Health and Family Welfare, New Delhi, before pursuing law.
Sign-up to continue reading. It is free & takes less than 2 mins
45 lakhs+ doctors trust M3 globally

Free & unlimited access to original articles and quizzes

Secure: we never sell your data
This article is only available to members. Are you a doctor? Click here to signup for free.
Try M3 India / Log In